Home
Top:: Personal : Dating

4 Results ... Displaying 1 - 4

Christian Singles Network
For every person that you send to our website that joins as a paying member you will receive 45% of the amount of their membership fee PLUS 45% of any subsequent renewal fees! Our memberships range from $12.95 USD - $74.95 USD. Because our rates are affordable to our members, the sign-up ratio is higher. Our affiliate program also offers a second tier. Send us other affiliate members and earn 10% of the sales generated by them plus the 45% you already earn.
Date Stacker
The DateSTACKER.com Affiliate Partnership Program is designed to be THE most profitable affiliate program out there - we figure this is the best way to attract affiliates. 50-60% depending on volume on Tier 1 and 10% on Tier. Long "cookie" life. The tracking cookie is set to expire in 5 years! Minimum payout- Just $20.00. Punctual bi-weekly payment- payments go out twice a month via snail mail, direct deposit,or PayPal

Peoplefishing.com
Click Here To Add A 2 Tiered Affiliate Program To This Directory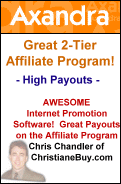 -- Read His Article On Arelis


Powered by iLink